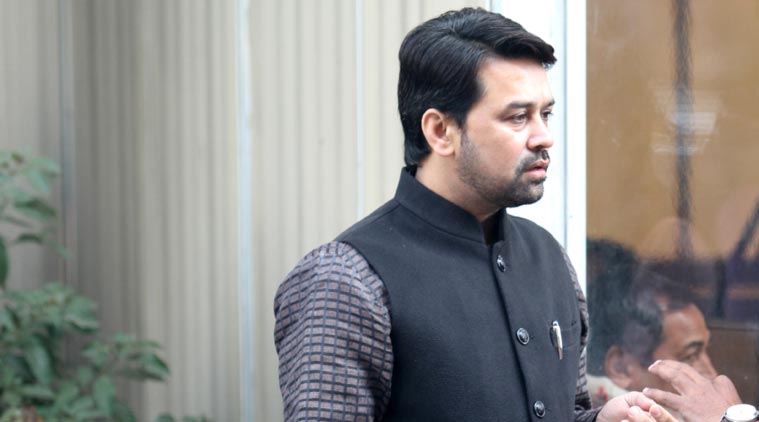 Conflict Of Interest Complaint Filed Against Anurag Thakur Vikram Rathour
INDIAN cricket board secretary Anurag Thakur is the latest in a series of BCCI officials facing conflict of interest allegations. The complaint, filed with ombudsman Justice AP Shah, is about Thakur's alleged commercial relationship with national selector Vikram Rathour. Incidentally, only last week, the complainant, Niraj Gunde, had raised the issue of Rathour's UK citizenship with Shah.
"Mr. Anurag Thakur who is also President of Himachal Pradesh Cricket Association has business connections with Mr. Vikram Rathour, a member of the Senior Selection Committee of the BCCI for the last 3 years," reads Gunde's mail.
In response, Thakur said his business relationship with Rathour 'had nothing to do with cricket'. "Me and Vikram's family know each other for the last four decades. Our business has nothing to do with cricket. The ombudsman was not made to malign people by those who every other day are filing false complaints," he told The Indian Express.
Thakur also raised questions about the Gunde's intentions, and pointed out that there was a definite pattern to the complaints. He also defended Indian team manager, Nishant Arora, who Gunde had alleged with having a conflict.
"One man has been filing these complaints, he is misusing this platform. He has filed complaints against the media manager Nishant Arora, this when he has no stake in the company he is wrongly linked to. There's a very obvious pattern if you see the kind of people who are being dragged into this — from Sharad Pawar, Sourav Ganguly, RP Shah and Vikram," he added.
In his complaint, Gunde writes about how Rathour was appointed and reappointed as selector when Thakur was holding important posts in the BCCI. "Mr. Rathour was appointed in the Senior Selection Committee when Mr. Thakur was the Jt. Secretary of the BCCI representing North Zone at the behest of Mr. Thakur. And re-appointed in November 2015, when Mr. Thakur is the Hon. Secretary of BCCI. It is found that Mr. Rathour &/or his family members and Mr. Thakur &/or his family members are directors in various companies."
It further reads: "It is clear that both these administrators are connected through business commercial relationship that either of them failed to disclose. It is a clear case of conflict of interest." Gunde has also attached documents which suggest the alleged business link between the Thakur and Rathour families.