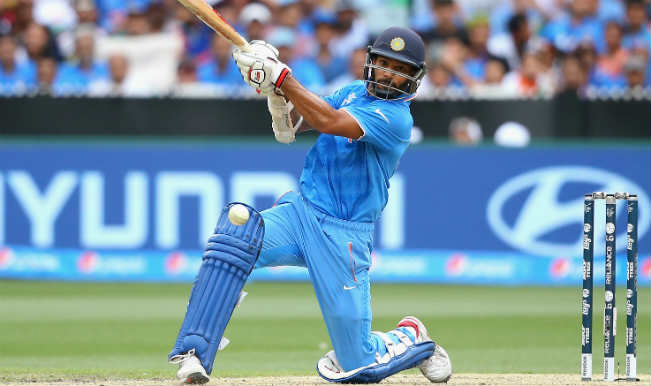 India Vs Ireland U 19 Wc Live Score Irish Bowlers Run Through India Top Order
End of 27 overs India bring up their 100 in 26.2 overs, and there is little more briskness in the scoring rate, especially through Sarfaraz's bat, who is on 40* off 45 balls. Sundar in contrast fairly sedate at 10* off 24. India 105 for 4.
End of 24 overs: The Indian pair is doing well to just milk the Irish bowlers for a while before taking any risk to up the scoring rate. 20 runs in the last four overs, 84 for 4.
End of 20 overs: Washington Sundar (3) and Sarfaraz Khan (9*) are together on the crease now. India need a rearguard stand from these two to put up a challenging total. 64 for 4.
16.5 Overs: Another wicket! India in totters now, four down for 55 in just the 17th over. McClintock induces Armaan Jaffer (4) into a drive that results in a thick edge to the wicketkeeper.
ALSO SEE India U-19 chase another WC dream
13.3 Overs: OUT! Anders strikes again in successive over! Gets rid of Bhui for 39! Big jolt for India as they lose a set batsman. Bhui punched it straight to the fielder at cover.
India in pressure. IND 48/3
11.2 Overs: OUT! Pant's scrappy innings comes to an end. Anders lands it on a full length outside off and Pant edges it to keeper. India 46/2
ALSO SEE Kapil Dev wishes 'good luck'
10.2: FOUR! What a shot that was. Just a but of width on offer outside off and Bhui sent it past backward point for four. McClintock is disappointed! IND 44/1
End of Over 10: Batsmen Bhui and Pant have brought stability to the Indian innings. Both have managed to rotate the strike well against Little and Anders. However, the Indians need to speed up the run flow. IND 39/1
ALSO SEE History of Under-19 WC
Back-to-back boundaries from Ricky Bhui gives India the much needed momentum. Strikes the first two deliveries from Little for fours. IND 24/1 in 7 overs
End of Over 5: Again a tidy over from Little. Just 1 run off it. Ireland keeping things under control at the moment. IND 14/1
End of Over 3: Maiden from Joshua Little! Gave nothing at all to India batsman Rishabh Pant, who lacked a bit of feet movement. IND 8/1
0.3 overs: OUT! Horrendous start for India! Joshua Little strikes for Ireland as India lose captain Ishan Kishan for duck in the third delivery of the match. IND 0/1
Ireland XI: J Tector, S Doheny, A Dennison, G McClintock, L Tucker, W McClintock, H Tector, V Chopra, R Anders, J Little, T Stanto
India XI: I Kishan, R Pant, R Bhui, S Khan, A Jaffer, W Sundar, M Lomror, R Batham, Z Ansari, A Khan, K Ahmed
Toss: Ireland won the toss and opted to field.
Brief Preview: A formidable India U-19 team coached by the legendary Rahul Dravid start as overwhelming favourites against minnows Ireland in their opening Group D league match of the ICC U-19 World Cup, here on Wednesday.
Being three-time champions, the tournament has always helped India unearth raw talent who have gone on to become big stars in the future. Whether it is Yuvraj Singh or India's current No. 1 batsman Virat Kohli, India have been lucky in terms of tapping quality talent from the tournament.