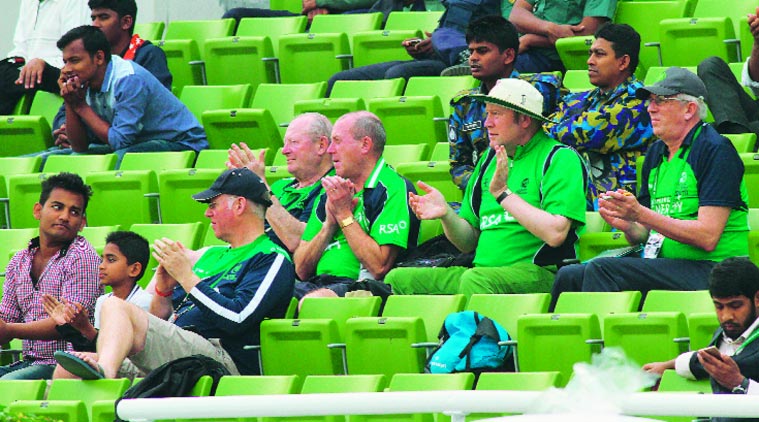 Tracking Descendant Of Jesus In Dhaka
Lorcan Tucker made an eventful debut at the under-19 World Cup. Those who had switched on their TV sets early Thursday morning to watch the India colts play Ireland must have gulped in disbelief when they heard the commentator reading out "information" about the young Irish wicket-keeper from a vandalised Wikipedia page. It claimed, among other things, that he is a direct descendant of Jesus Christ.
Three generations of the Tucker family are present at the Sher-e-Bangla stadium. So it's easy to verify the claim.
"I noticed that on twitter a couple of weeks ago. But I decided not to make an issue out of it. Because sometimes if you make an issue of these things they become even more… you know. It was from a team announcement about two years ago or three years ago, from the previous under-19 qualifier. They obviously changed — inserted — that stuff. I have seen it," says the cricketer's father Barry Tucker, sitting next to Lorcan's grandfather Ernest.
There's no doubt, however, that Lorcan's all-round performance against India was pretty divine. Three catches and a sharp stumping followed up by a brave 57 run-knock — Ireland's highest score in the match — and a defiant century partnership against the tournament favourites gave the small but vocal Irish contingent plenty to cheer about. They are all family members of the players, and have themselves played a bit of cricket in the past. In Ireland, while cricket's popularity is growing, it still remains to some extent a family sport.
In the Tucker family, Ernest played "a little bit of cricket" at school. "It was a long time ago, unfortunately. Maybe 50 years ago," he says.
So one could have perhaps counted cricketers in Ireland on fingertips back then, you ask foolishly. "No," he says.
Ernest reminds you that even back in the day Ireland were known to cause upsets. A visiting West Indian team that had Clive Lloyd and Clyde Walcott in the lineup were shot out for 25 in Derry in 1969. One of the two heroes of that match was the famous Irish left-arm fast bowler Alec O'Riordan, who took four wickets. "I was in the same school as him and had to often face him in the nets, which wasn't very pleasant," says Ernest.
Lorcan was initiated into the sport when he was five. "I played myself, so he started very young. He played other sports, too, rugby, football and hurling, which is Ireland's national sport. And he played cricket," says Barry. After a pause, he proceeds to give an interesting insight into Irish sporting culture. "That was a real mix. Normally you wouldn't get people that are playing hurling playing cricket. Because hurling is a traditionally Irish sport, if you like, a Gaelic sport. And normally the people who like Gaelic sports wouldn't play what they term as foreign sports or colonial sports."
If cricket comes to Lorcan from his father's side, hurling comes from his mother's side who is very proud of the Irish culture and language. Which is evident in his Irish name
"Lorcan" as well as his younger brother's "Fiachra", who is also in the squad. The two boys are fluent speakers of Gaelic, a tongue only a miniscule proportion of the population speak or understand in Ireland. Certainly none in the team, except the Tucker brothers.
Curious as to what "Lorcan" means in Gaelic, I look up. Wikipedia says it means "little fierce one". It's accurate.